Click here for details of the upcoming Cartel Presentation Days

Lacan Circle of Australia Cartels

As Lacan observed in his adjunct to The Founding Act;
"The worst objection that can be made to Societies in their existing form is the drying up of work, manifest even in the quality, that they cause among the best of people. The success of the School will be measured by the production of work that is acceptable in its proper setting."

A cartel is a small study and research group of 3 to 5 members who elect to work together. They choose a 'plus one' to lead and animate the life of the cartel, with an aim to produce a material output of high quality.
Participation in Lacan Circle cartels is free and open to anyone with an interest.
We encourages publication of each cartel's work in several ways: its journal PsychoanalysisLacan; the publications of the New Lacanian School, such as The Lacanian Review and TLR Online; and presentations at Lacan Circle events. 
Cartels are intended to facilitate research and study in the Freudian Field; they are registered with the NLS via the LCA.
To enquire about Lacan Circle cartel activity or to join a cartel please contact David Westcombe.
Contributions by cartels or their members to the newsletter of the NLS cartels Newsletter 4+one are welcome.
To enquire about NLS cartel activity please contact Joanne Conway.
NLS Cartel Information
A cartel is the original mode of working suggested to psychoanalysts and those who want to study psychoanalysis. It is a working group that relies on several organising principles that were defined by Jacques Lacan and that take each one's specific relationship to knowledge into account, which he can elaborate when it is a matter of unconscious causality.
Three to five people choose to work with each other 
For the creation of a cartel Lacan suggests three people as a minimum, five maximum, and in 1980 specified four as the 'right measure'. Four is the reference participant number for the majority of cartels today. Meetings happen at a rhythm that is decided between the cartel members, called 'cartelisands'.
The 'Plus-One'
The 'plus-one' is chosen by the cartelisands and according to Jacques Lacan is the person "in charge of selection, discussion and the outcome to be accorded the efforts of each". See Founding Act of the Ecole Freudienne de Paris, of the 21st June 1964. His function is crucial to support the work of each cartelisand with tact, to face difficulties and to maintain a distance between knowledge and truth.
The theme of work
The creation of a cartel gives each cartelisand the opportunity to choose a theme of work: the reading of a seminar, the elaboration of a concept or of a case, the connection between psychoanalysis and other fields, etc. To each person's theme a common theme is added that becomes the title of the cartel.
Everyone's own product
The work carried out does not lead to a collective product or to a knowledge taken from the group. It is rather a matter for each one, according to the moment of his relation to psychoanalysis, to submit what could be noted of what was being able to be modified in his relation to analytic knowledge.
Permutation
A cartel cannot last longer than one or two years. Its necessary conclusion allows the avoidance of noticeable inertia in working groups that become eternal (See Jacques-Alain Miller, Five Variations on the Theme of "Provoked Elaboration") and hinder the appearance of a new knowledge for the subject.
The scansion is produced as an event of the cartel that concludes.
2020

Cartel

Transgender

Plus-one
David Ferraro


david.ferraro@thepsychologyclinic.com.au

Transgender, sexuation and 21st century capitalism
Member
Eugénie Austin


eugenie@eugenie.com.au

Transgender/Woman, woman/transgender, within Lacan's formulas of sexuation
Member
S Brahnam


sbrahnam@gmail.com

Transgender identity and the suicidal act
Member
Nalinda Amarasiri Gunawardana


agnalinda@yahoo.com

Post Freudian transgender as not-abnormal, not-pathological
Member
Rosemary Overell


rosemary.overell@otago.ac.nz

Psychoanalysis as a tool within trans* politics, hegemony and identity
Member
Ross Spencer


roszidewalker@gmail.com

Queer theory addressed to the big Other
2021

Cartel

Perversion

Plus-one
Tim Themi


tim.themi@unimelb.edu.au

Perversion and Eroticism
Member
Judith Beyer


beyer.judith@gmail.com

Politics as père-version
Member
Glenn Rutter

Perversion
Member
Ross Spencer


rossspencer695@gmail.com

Perversion
2020

Cartel

Interpretation

Plus-one
Russell Grigg


ragrigg@gmail.com

Interpretation as a performative
Member
Mia Lalanne


mialalanne@bigpond.com

The signifier: translation and interpretation
Member
Barbara Milech


b.milech@curtin.edu.au

Interpretation as an act of love
Member
Suzanne Smith


sicadee@gmail.com

Interpretation and the imaginary
Member
Jonathan Redmond


drjdredmond@gmail.com

Interpretation and the object a
2020

Cartel

Lacan's Seminar XXIV

Plus-one
Natalie Wulfing


natalieweulfing@gmail.com

What is a new signifier?
Member
David Ferraro


david.ferraro@thepsychologyclinic.com.au

Is psychoanalysis what one would call an autism à deux?
Member
Joanna Shemansky


joanna.shemansky@gmail.com

The concept of narcissism in seminar XXIV
Member
Grace Tarpey


drgracetarpey@gmail.com

Knowledge and the symptom
Member
David Westcombe


westcombe@mac.com

Lacan's use of topology in Seminar XXIV
2020

Cartel

Encore

Plus-one
Russell Grigg


ragrigg@gmail.com

Truth and jouissance
Member
Eugénie Austin


eugenie@eugenie.com.au

Relational possibilities beyond the female side of sexuation
Member
Cara Brough


carabrough@gmail.com

Feminine jouissance
Member
Milanda Matthews

matthewsmilanda@yahoo.com.au

Love and the sexual non-rapport
Member
Alison Ravenscroft


ravenscroft@psychoanalysis.melbourne

Sexed bodies and sexuation
Member
Lenore Stephens


stephens.lenore@gmail.com



Sexuation outside identification
2020

Cartel

Transference

Plus-one
Russell Grigg


ragrigg@gmail.com

Transference and the real unconscious
Member
Hanieh Moradi


moradi.hanieh@yahoo.com

Transference and the analyst's desire
Member
Joanne Manning


j

oanne7155@icloud.com
Desire and the discourse of the analyst
Member
Nalinda Amarasiri Gunwardana


agnalinda@yahoo.com

Transference and love
Member
Eva Birch


evabirch@gmail.com

Transference and jouissance
Our most recent Cartel Presentation Day was held on 17 October 2020. It included 20 short talks over four hours. Our next Cartel Presentation Days will be held on 8 and 15 May 2021.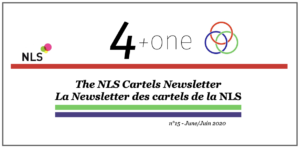 4 + one quartreplusone is the journal of NLS cartel activity
It is published regularly
View the latest edition (February 2021) here