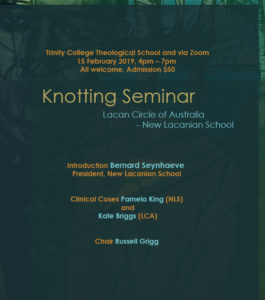 4pm Introduction: Bernard Seynhaeve, President of the New Lacanian School, Analyst
Member of the New Lacanian School and of the Ecole de la Cause Freudienne, and former
director of Le Courtil, an institution for the psychoanalytic treatment of children located in
Belgium.
4:30pm Clinical case: Pamela King (Marseilles), practicing analyst, NLS.
5:30pm Clinical case: Kate Briggs (Melbourne), practicing analyst, LCA.
Chair: Russell Grigg, President LCA.
Registration $50. Register on the website below. Please note that because this is
a clinical seminar, registrations on this site will close Thursday 14 February, the day before
the seminar, at 10pm. After this time, please write to convenor@lacancircle.net directly.
There will be no walk-up registration on the day.
Parking is available in Royal Parade opposite Princes Park or in the carpark of the
Melbourne Brain Centre, University of Melbourne, 300 metres down from the Trinity
Theological College.
Credit Card
Visa, Mastercard, or Amex welcome. All our credit card processing is via eWay.