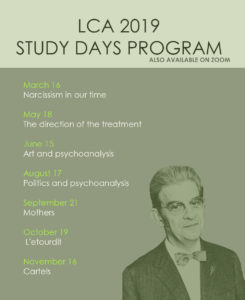 Study Days Zoom ID is 421 030 6990
Study days are the Lacan Circle's link to activities of the New Lacanian School and the Freudian Field, just as they are a bridge to the wider community. The practice of psychoanalysis does not take place in a vacuum and Lacanian psychoanalysis is both sensitive to the manner in which subjective positions and choices respond to social change and attentive to developments in areas cognate with psychoanalysis.
Study Days are held on the third Saturday of each month from 10am to 2pm
Venue
Multipurpose Room 2, Kathleen Syme Centre, 251 Faraday St., Carlton.
Fee
Study Days are admission free and open to all
Enquiries
For all enquiries contact the study days convenor:
Joanna Shemansky joanna.shemansky@gmail.com