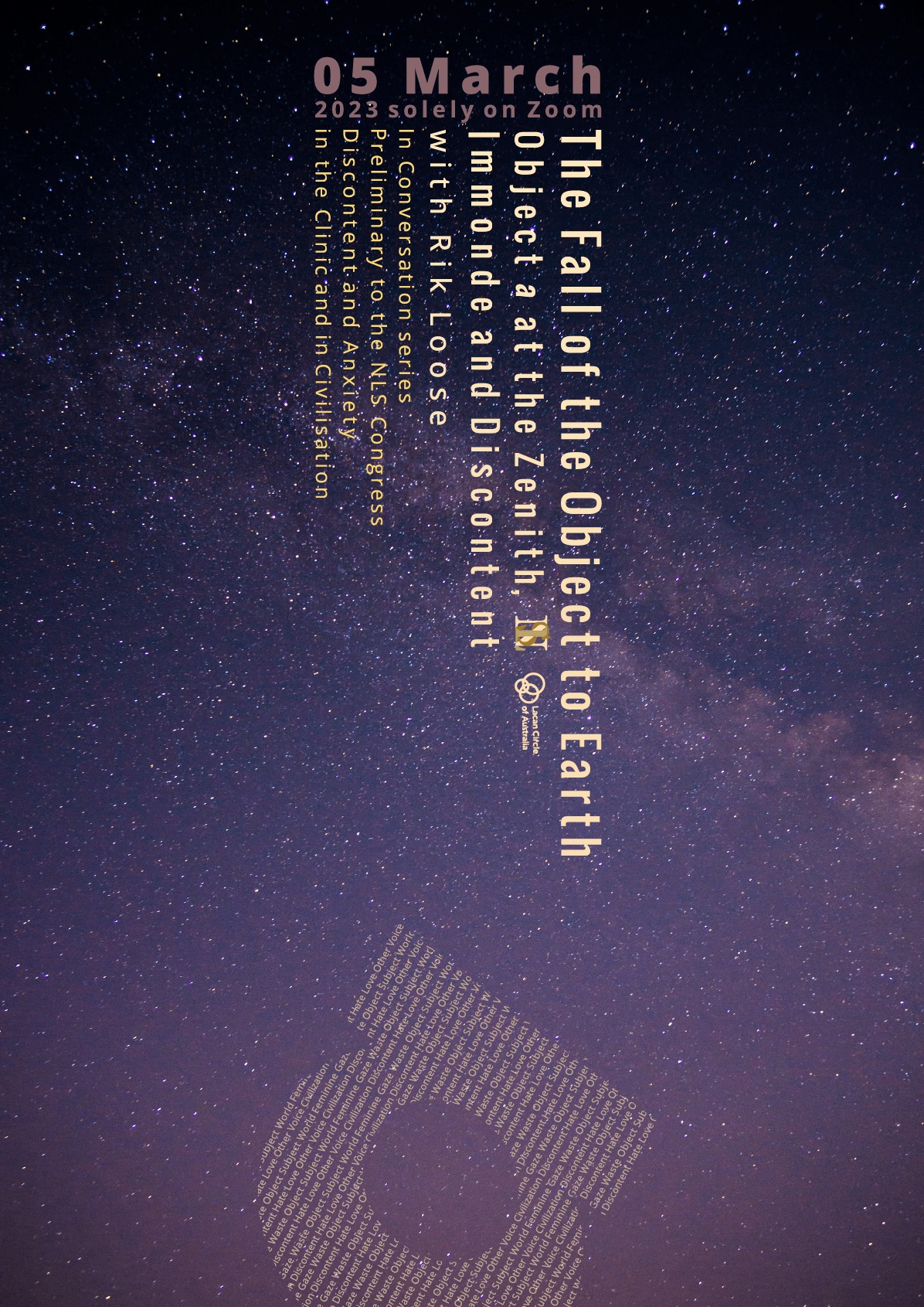 The Fall of the Object to Earth:

Object a at the Zenith, Immonde (waste) and Discontent
This event has concluded
Rik Loose was 'In Conversation' with the Lacan Circle of Australia on 5 March
Register below to receive the Zoom recording of the event
Rik Loose is a member of the NLS (New Lacanian School), ICLO-NLS (Irish Circle of the Lacanian Orientation of the NLS), the WAP (World Association of Psychoanalysis) and the APPI (Association for Psychoanalysis and Psychotherapy in Ireland). He is a Senior Lecturer in the Dublin Business School, School of Arts and he works in private psychoanalytic practice.
Rik's publications include Art and Psychoanalysis Beyond (Lack-of) Being, The Lacanian Review, Issue 9, STILL LIFE? here, and The Subject of Addiction, Psychoanalysis and The Administration of Enjoyment, here.
This event was preliminary to the May 2023 XXI NLS Congress on the theme Discontent and Anxiety in the Clinic and in Civilisation; the details are here. We held related 'In Conversation' events with Natalie Wülfing and Frank Rollier; the details are here.
Register below to receive the recording of this event
In Conversation: Rik Loose
Privacy policy: This event was audio and video recorded and live broadcast through Zoom.
Those present agreed to the collection and processing of their personal data,
and the publication of the audio and video recordings and stills.
Visit our In Conversation information page here
Visit our calendar for other events here
Visit the NLS Congress page here
Return to our home page here