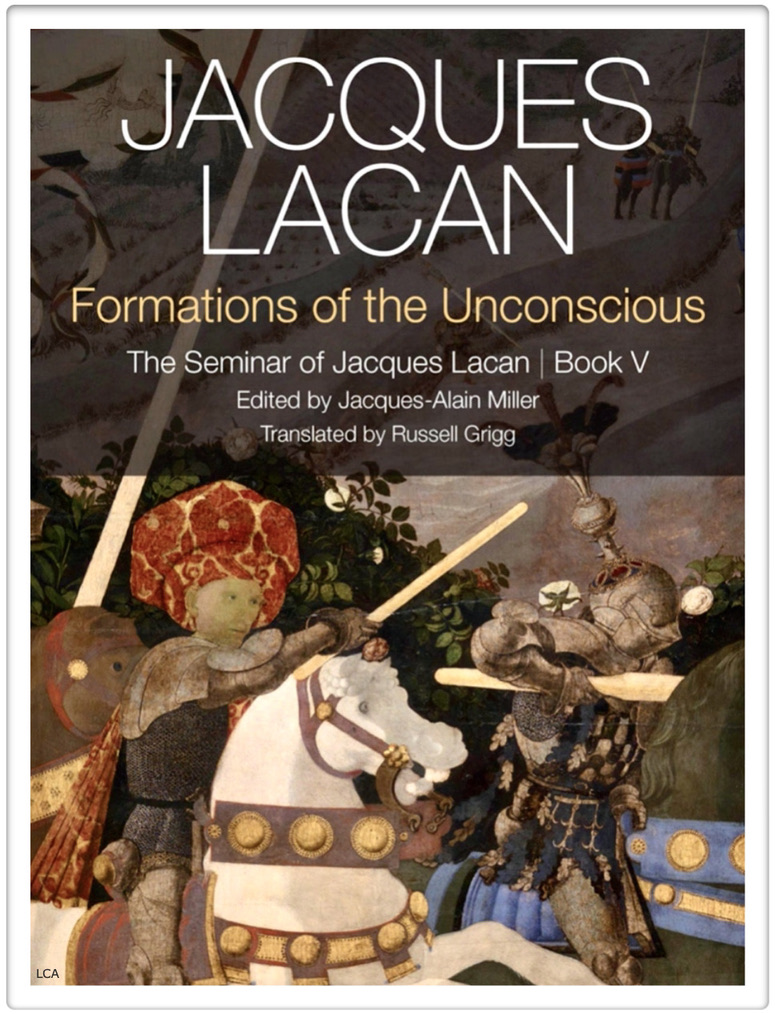 The Lacan Circle Reading Group
Jacques Lacan, Seminar V
Formations of the Unconscious
Convened by Eugénie Austin
"The fact that in the unconscious there are signifying chains, subsisting as such, which, from there, structure and act on the organism and influence what appears externally as a symptom, is the heart of the analytic experience." Jacques Lacan, Seminar V, page 388
We are reading Chapter XXIV, Transference and Suggestion
The recording of 29 November, reading pages 400- 404, is here
(The recording of our first session, August 2022, is here)
We meet every Wednesday at 7:00pm – 8:30pm
Melbourne time, AEDT, UTC + 11
Find your local start time here
Register below for the permanent Zoom link to join us whenever you wish. No prior knowledge is assumed and we read out-loud and line-by-line. This reading group is free and open to anyone with an interest.
Our text is the English edition of Formations of the Unconscious, The Seminar of Jacques Lacan, Book V, 1957 – 1958, edited by Jacques-Alain Miller, translated by Russell Grigg and published by Polity Press in 2017. It is available everywhere including here

The themes of this Seminar include:
Jouissance
Circuits of Desire
The Oedipus Complex
The Paternal Metaphor
Symptoms and their Masks
The Freudian Structures of Wit
The Dialectic of Desire and Demand
Foreclosure and The Name of the Father
The Significance of the Phallus
Transference and Suggestion
The Structure of Fantasy
The Logic of Castration
The Pleasure Principle
Contact the convenor Eugénie Austin with any queries
Request the permanent Zoom link below

Lacan Circle Reading Group: Formations of the Unconscious
Privacy statement: These meetings are audio and video recorded and live broadcast through Zoom. When registering you agree to the collection and processing of your personal data, and on the publication of the audio and video recordings and/or stills.
Visit our calendar of events here
Visit our past events here
Our home page is here