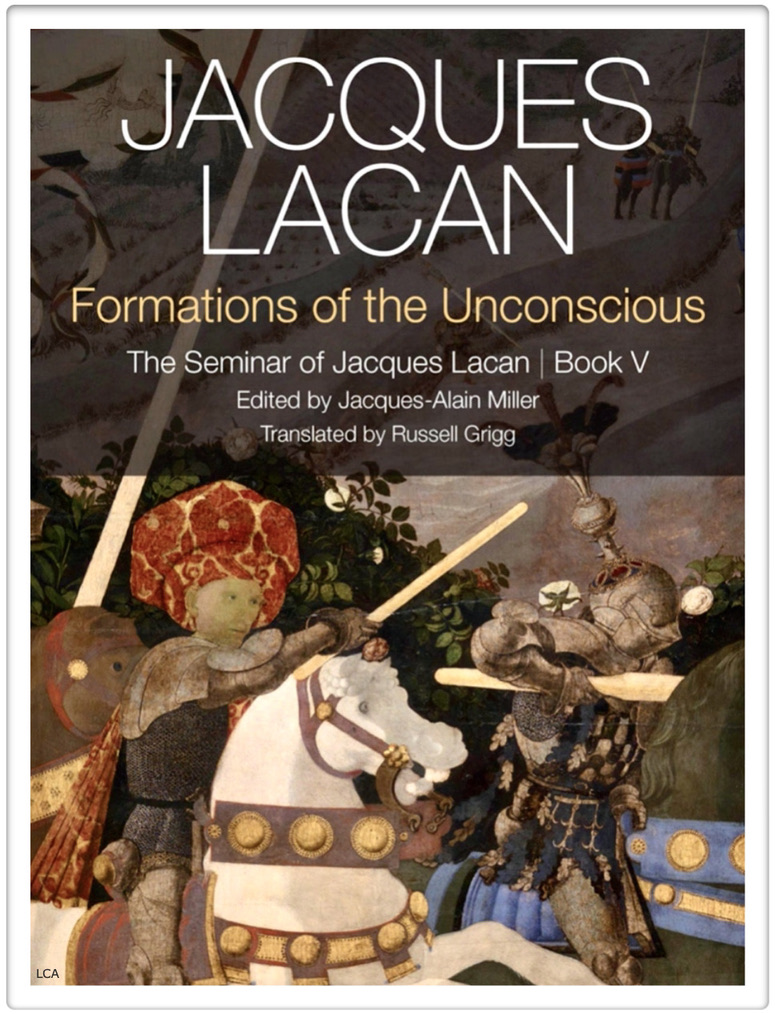 Lacan Circle Reading Group
Seminar V: Formations of the Unconscious
Convened by Eugénie Austin
The Lacan Circle will begin reading Formations of the Unconscious soon!
Register below to join us, and to receive reminders as our start date firms up
We are currently reading the final chapters of Seminar IV,
and expect to begin Seminar V in late July 2022
Lacan Circle reading groups are open to anyone with an interest
Join us for one session, every session, or occasional sessions
No prior knowledge is assumed, we are all on Zoom
We read page-by-page and slowly

Wednesdays 7:00pm – 8:30pm
Melbourne time AEST UTC+10
We will be reading from the recently published edition:
Formations of the Unconscious
The Seminar of Jacques Lacan, Book V
Edited by Jacques-Alain Miller
Translated by Russell Grigg
Polity Press, 2017
It is available everywhere
including here in hardback
and here in paperback
We will begin at page 1, chapter 1:
"This year (1957-1958) I have taken 'formations of the unconscious' as my topic. Many of you are aware that the questions I raise here concern – directly, this time – the function in the unconscious of what in previous years I have been developing as the signifier."

Jacques Lacan at his desk in 1957
Contact the convenor Eugénie Austin with any queries
Register below to receive the recurring Zoom link
We will update you with our start date
as soon as we know it!



Lacan Circle Reading Group: Formations of the Unconscious
These events will be audio and video recorded and live broadcast through Zoom.
When registering you agree to the collection and processing of your personal data,
and on the publication of the audio and video recordings and/or stills.
Visit our current Seminar IV Reading Group here
Visit our current Freud Reading Group here
Visit our calendar for our other events here
Return to our home page here