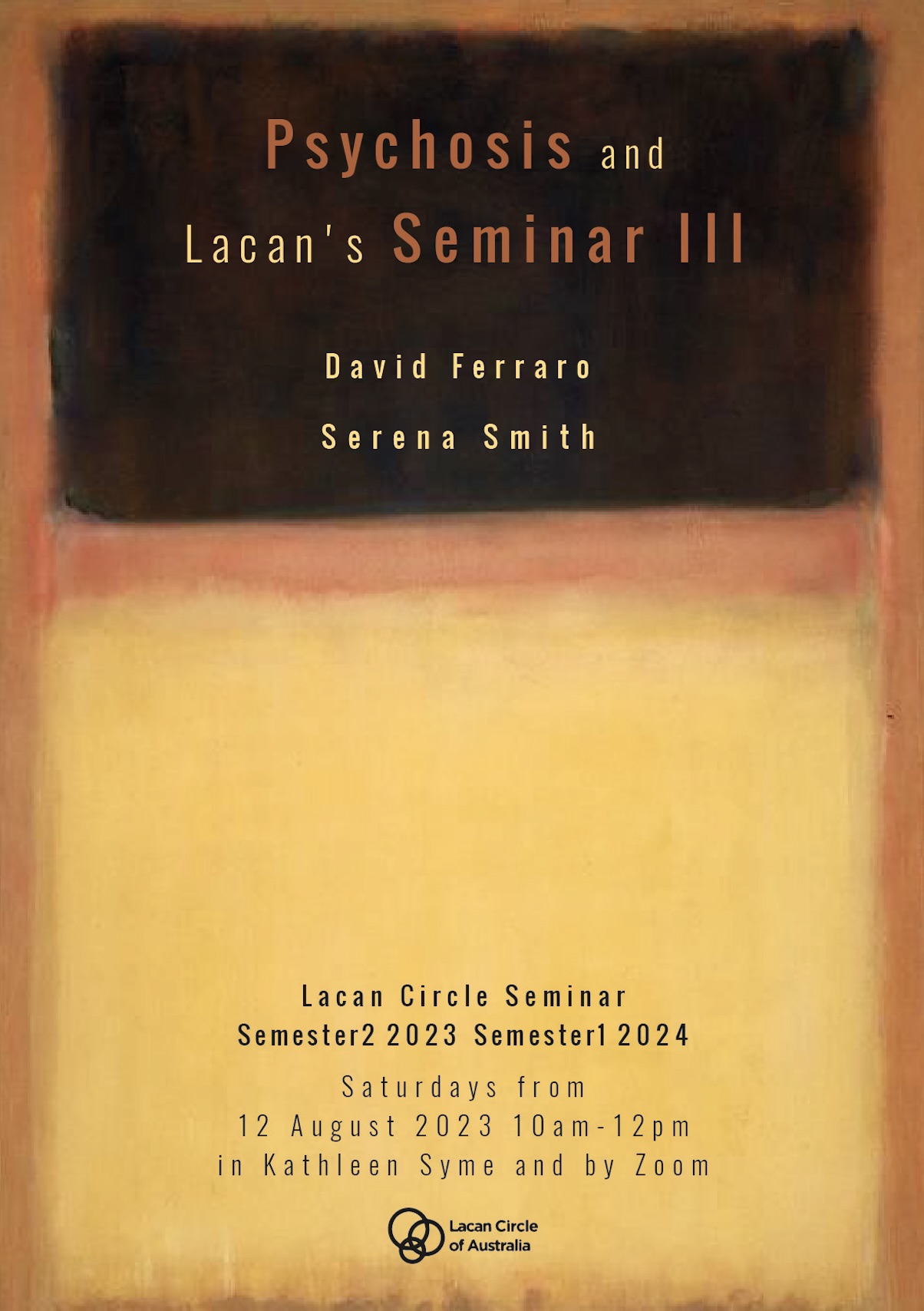 Lacan Circle of Australia Seminar
Psychosis and Lacan's Seminar III
Convened by David Ferraro
Ten Saturday during late 2023
In person or by Zoom, and recorded
Classes by David Ferraro and Serena Smith
Psychosis Part II will be presented during semester I, 2024
These seminars are open to anyone interested in Lacanian psychoanalysis
After decades of misuse of Freud's legacy, Lacan felt it necessary to return to Freud. Our wager is that Lacan did this to recapture what was radical and innovative in Freud's project, and to rescue it from its status as bureaucratic, institutional dogma. The decades that separate us from Lacan are far greater than those that separated Lacan from Freud, and thus, so is the need greater for us to return to Lacan. This is our project for the next two semesters in which we will present a detailed engagement with Lacan's teachings on psychosis from the 1950s via a close reading of Seminar III: The Psychoses.
The aim of this seminar is twofold: first, to introduce those relative newcomers interested in, but daunted by Lacanian jargon with a discussion that proceeds from first principles. The reading material in question, Seminar III, is one in which Lacan introduces fundamental concepts, including the notion of subjective structure, that of the big Other, the role of the Name of the Father as an anchoring point for a subject's language, and the foreclosure of the Name of the Father as an operation in psychosis.
Second, whilst we are a long time away from the years of 1955-56 in which the Seminar was initially presented, psychosis is perhaps the most crucial clinical question for psychoanalysis – and not just psychoanalysis – for the twenty first century. Entirely independent of psychoanalysis, the status of psychosis has changed drastically in the period of neoliberal capitalism and deinstitutionalisation. On the one hand, it is subject to a range of essentially coercive regimes of surveillance and instrumentality; on the other, it is neglected, 'managed in the community', and a situation in which the mad are no longer sequestered out of sight but walk and live among us. To study psychosis is, therefore, to study also our communities, our families, and the socioeconomic apparatuses that produce them.
We hope that this seminar is not only for beginners, but will have something of interest for those who have studied Lacanian psychoanalysis previously.
Schedule
Week 1: Saturday 12 August
A general introduction to the question of psychoses and the meaning of delusion
Week 2: Saturday 19 August
The other and psychosis
Week 3: Saturday 26 August
"I've just been to the butcher's"
Week 4: Saturday 2 September
On a god who does not deceive and one who does
Week 5: Saturday 9 September
The psychotic phenomenon and its mechanism
Week 6: Saturday 16 September
The imaginary dissolution
Week 7: Saturday 23 September
The symbolic sentence
Week 8: Saturday 30 September
On nonsense and the structure of God. The signifier in the real and the bellowing miracle
Week 9: Saturday 7 October
On the rejection of a primordial signifier
Week 10: Saturday 14 October
The hysteric's question
David Ferraro is a psychoanalyst and clinical psychologist in private practice in Melbourne. He is a member and former president of the Lacan Circle of Australia, and is interested in conjunctions between psychoanalysis, philosophy and other forms of praxis.
Serena Smith has been a student and practitioner of psychoanalysis for over thirty years, and she has taught in various programs of psychoanalytic studies across the last fifteen years. She has an active research interest in the Lacanian object, clinical work with children and adolescents and the practice of psychoanalysis in current times. Serena practices psychoanalysis in Melbourne.
No reading will be presumed, but it is suggested that participants read the following as key texts:
Jacques Lacan, The Psychoses, The Seminar, Book III, 1955-1956 Available here
Sigmund Freud, Psycho-Analytic Notes on an Autobiographical Account of a Case of Paranoia Available here
Daniel Paul Schreber, Memoirs of My Nervous Illness Available here
Further texts are available in our Discord server discussion group.
The aim of our seminar is not the transmission of tired dogma but active enquiry and discussion, and so debate, questions about first principles and scepticism are encouraged. This ten-week series of seminars will be followed by Psychosis, Part II to be presented during semester I, 2024. Parts I and II may be taken independently.

This seminar has concluded and is now available as a package of recordings
Contact us here with any queries

Psychosis and Lacan's Seminar III
Privacy policy:
These seminars were audio and video recorded and live broadcast through Zoom. Those attending agreed to the collection and processing of their personal data, and the publication of the audio and video recordings and stills.
Thank you for your interest in psychoanalysis and your support of the Lacan Circle
Visit our calendar for upcoming events and activities here
Visit our past events and activities here
Return to our home page here