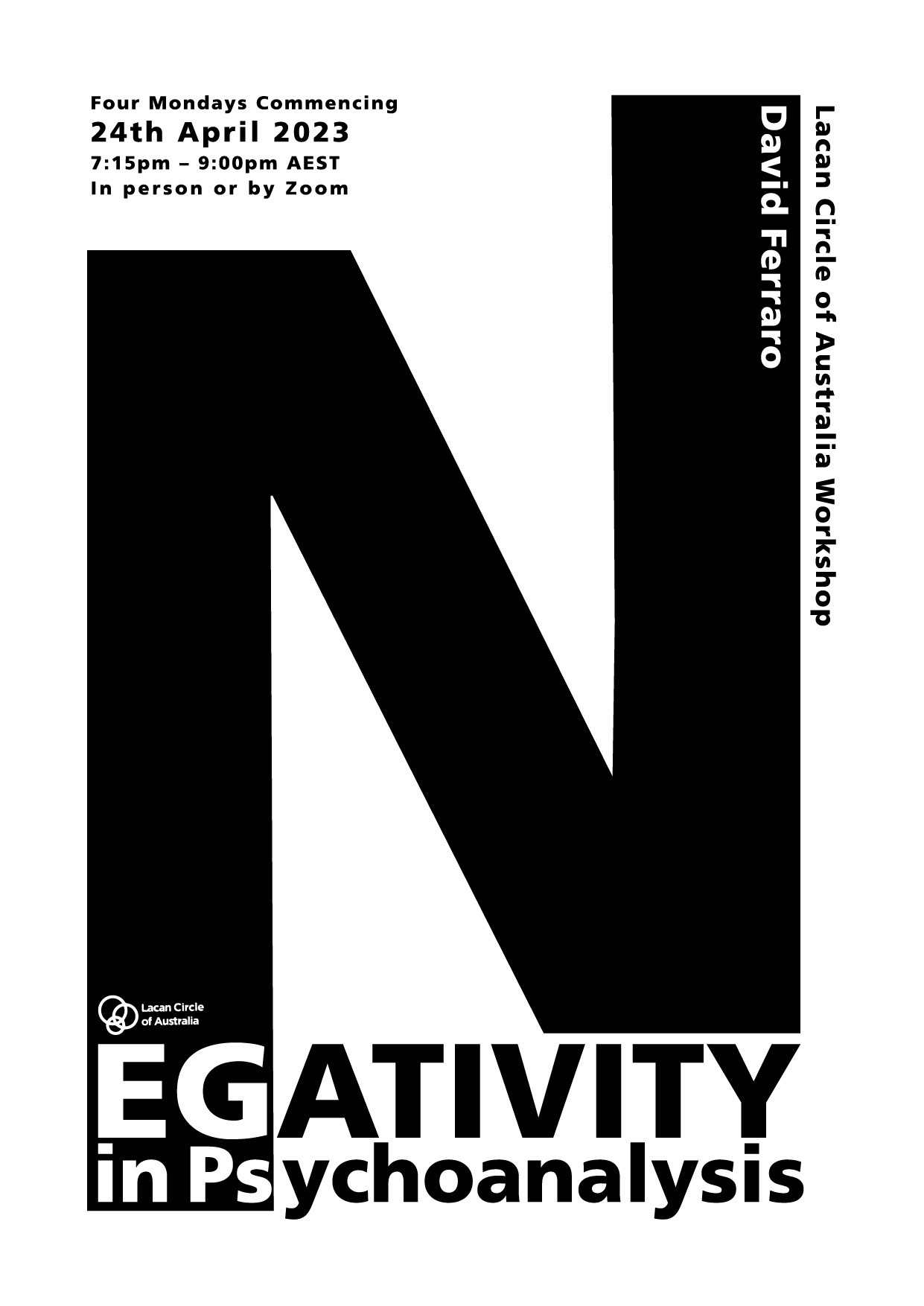 Negativity in Psychoanalysis
A Lacan Circle of Australia Workshop
Presented by David Ferraro
This series has concluded
Register below for the recordings,
the readings and the workshop notes
Beginning with a close reading of Freud's brief, but dense paper 'Negation' (1925), this workshop explored how Lacan made use of Freud's intervention to develop a dynamic, structural account of psychoanalysis. We examined how Lacan's return to Freud, keeping structure and negativity at the forefront, permitted him to critique the psychologising, ego-oriented psychoanalysis of his time in favour of a paradigm that knotted structural linguistics with what is called Aufhebung in the Hegelian tradition.
Further, read a selection of excerpts to discuss how this approach shifted and changed across the course of Lacan's teaching, with particular reference to das Ding, the emergence of objet a from the dialectic of Subject and Other, to the logic of sexuation in Seminar XX. In so doing, the aim was to demonstrate the importance of terms such as 'negation', contradiction', 'sublation' and 'nonbeing' not merely as philosophical terms, but as key concepts for Lacanian clinical praxis.
The emphasis was on friendly discussion, investigating the limitations and critiques of 'negativity' in psychoanalysis, and the relevance of this paradigm to contemporary psychoanalytic praxis.
David Ferraro is a psychoanalyst and clinical psychologist working in Melbourne. He is a member and former president of the Lacan Circle of Australia, and is interested in conjunctions between psychoanalysis, philosophy and other forms of praxis. 
Register below to receive the recordings, the readings and the notes.
Contact us here with any queries
Lacan Circle Workshop - Negativity in Psychoanalysis
Privacy policy: These workshops were audio and video recorded and live broadcast through Zoom. Those present agreed to the collection and processing of their personal data, and the publication of the audio and video recordings and stills.
Visit our current seminar on psychosis, convened by David Ferraro, here
Visit our calendar for other events and activities here
Visit our past events information here
Return to our home page here