Lacan Circle of Australia
International Conference 2022
WE'RE ALL MAD HERE
Friday 25 November 5:00pm – 7:00pm
Jorge Assef: The Pass and the End of Analysis

Saturday 26 November 9:30am – 5:00pm
Jorge Assef keynote address: The Madness of Each One
Papers and presentations by Lacan Circle members and associates
Sunday 27 November 9:30 – 5:00pm
Papers and presentations by Lacan Circle members and associates
"The madman is a dreamer awake" (Freud 1917); "The insane embody what we would be led to if we began to take things seriously" (Lacan 1956); and "Everyone is mad, that is, delusional" (1978). With these statements psychoanalysis announces its commitment to the dignity of the madness in each of us. For Jacques-Alain Miller this is "a compass, an ultimate Lacanian compass" (2013).
In the context of 21st-century mental-health discourse, the Diagnostic and Statistical Manual of Mental Disorders (DSM) and its love affair with diagnosis and pharmaceuticals, psychoanalysis offers us a way to engage with madness differently, as an integral part of the singular jouissance at the core of each speaking being.
Can we trace a thread of properly psychoanalytic madness? This might take us through President Schreber's flamboyant delusion, Lewis Carroll's "nonsense" yet entirely meaningful prose, Joyce's Finnegans Wake, Lacan's real unconscious, the sinthome, and Jacques-Alain Miller's ordinary psychosis. How does this history of dignified and brilliant madness inform contemporary psychoanalytic thinking for both analyst and analysand? If we are all mad, what are the consequences for our clinic and practice?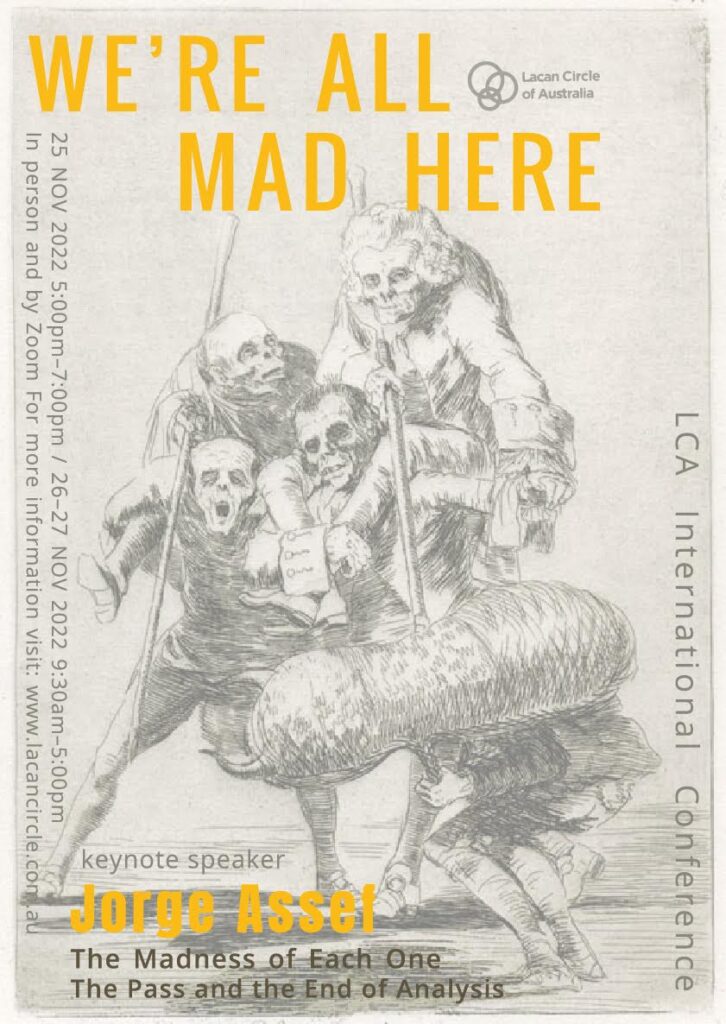 Our keynote presenter Jorge Assef is a psychoanalyst practicing in Córdoba, Argentina, and is a member of the EOL and WAP. He is Professor of the Master's program in Lacanian Psychoanalytic Theory at the Universidad Nacional de Córdoba, Professor at the Centre for Research and Clinical Studies, Institute of the Freudian Field, Córdoba, and Professor of the Master's program at Clínica Lacaniana, Universidad Nacional de San Martín and Instituto Clínico de Buenos Aires. He is chief editor of the bilingual publication LAPSO, co-editor of the Lacanian Review Online (LRO), and a current Analyst of the School (AS) of the Escuela de la Orientación Lacaniana.
Jorge gave two keynote presentations: 'The pass and the end of analysis', and 'The madness of each One'.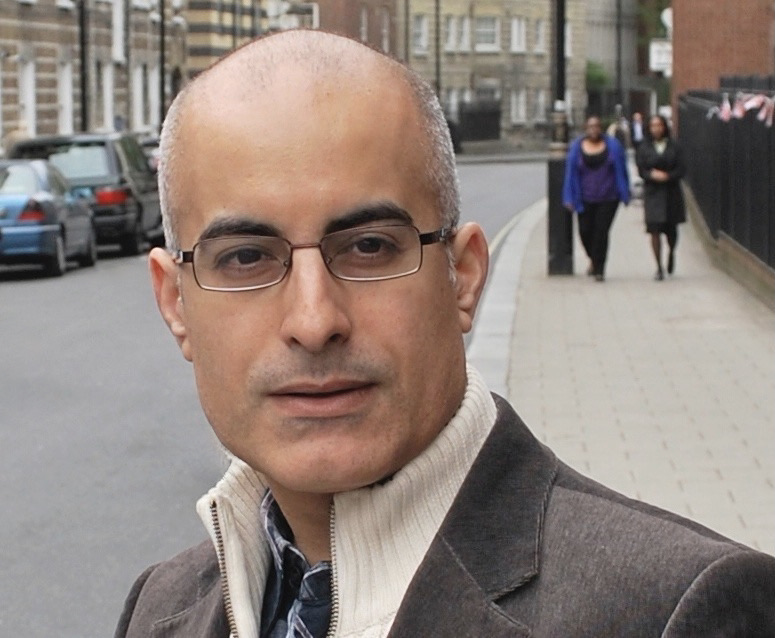 Jorge is the author of:
Hypermodern Subjectivity (in Spanish), 2013
"Pushing the Impossible", The Lacanian Review #12, 2022
"A Moment of Awakening Beyond the Nightmare", The Lacanian Review, #8, 2020
"The Zombie Epidemic: Hypermodern Version of the Apocalypse", Lacanian Compass Express, 2013
"The Time of the Era and the Time of an Analysis" LRO 148, 2019
Full Program
Friday 25 November 5:00pm – 7:00pm

Jorge Assef, Argentina, EOL, WAP, The pass and the end of analysis
Saturday 26 November 9:30am – 5:00pm
Session I
Kate Briggs, LCA, A clinic of links and limits
Santanu Biswas, India, LCA, Why does Lacan highlight Joyce's expression "The letter! The litter!"?
Session II
Jorge Assef, Argentina, EOL, WAP, keynote address: The madness of each one
Session III
Sheila Cavanagh, Canada, Jacques Lacan and The Ravishing of Lol Stein by Marguerite Duras
Tim Themi, Perversion and nonknowledge as a technique
David Ferraro, LCA, Some further questions prior to any possible treatment of the psychoses
Sunday 27 November 9:30 – 5:00pm
Session I
David Westcombe, LCA, The two analyses of Ms L
Hilda Fernandez, Canada, Some considerations on the notion of trauma
Jonathan Redmond, LCA, All mad … how mad?
Session II
Dan Collins, USA, Lacan's Seminar XXIV: Salvage or salvation?
Jane Kent, LCA, Beyond the spectacles of object a
Youngjin Park, Korea, A new version of myself
Session III
Milanda Matthews, LCA, The contemporary clinic: An "exclusion that is not like others"
Russell Grigg, LCA, A general theory of delusion

Our working bibliography is here
Contact us with queries here
Visit PsychoanalysisLacan Volume 6: WE'RE ALL MAD HERE here
Visit our calendar for upcoming Lacan Circle events here
Visit our past events and previous conferences here
Return to our home page here
Art by Vladimir Semenskiy and Fransisco Goya